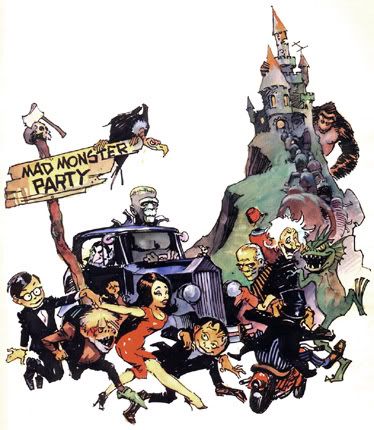 The winners of the  2009 Cannonball Awards have been announced and as we predicted.. we didn't win squat! But with 2% of the vote for Best Visual Treat, 8% of the vote for Best Hifreakinlarious Blog, and a whopping 13% of the vote for Best Under Appreciated Blog, The B-Movie Catechism claims complete and total moral victory!!! I mean, come on, a blog that is currently in the midst of reveling in the cinematic jewel that is Gymkata manages to place in the top five? That's a monster win, my friends, a monster win!
Still, I suppose we should congratulate those blogs who actually got more votes than us in their respective categories, although surely their first place finishes must be hollow and meaningless next to the supreme moral victory that is ours.
First up is the award for Best Visual Treat which goes to Holy Cards for Inspiration. Micki runs an excellent site over there, although some (and by some I mean me) might think that since her site promotes EVERYBODY IN HEAVEN, it's conceivable that some friends in high places might have influenced the vote just a bit. (I myself tried to appeal to Simon Templar, "The Saint", but apparently fictional TV rip offs of James Bond don't have the same pull as real people living in the presence of God.)
And then there's Margaret, a.k.a. Minnesota's Mom, who garnered enough popularity to win the award for not being popular enough (eh, we're Catholics, we eat paradoxes for breakfast) and take home the cup for Best Under Appreciated Blog. Again, another excellent site, although some (and by some I mean me) might question the strategy of scheduling the birth of your child to coincide with the final week of voting. She's posting photos from the hospital room fro crying out loud. (I myself was going to post some baby photos, but anyone whose seen It's Alive knows they probably wouldn't have gotten the same reaction.)
And last, but not least, is the award for Best Hifreakinlarious Blog which goes to our pal LarryD over at Acts of Apostasy. Larry is a frequent commenter around these parts, so we don't want to rag on him too hard… although… there are some (and by some I mean me and Matthew Archbold and Red Cardigan and so on and so forth) who felt it was best to pull for Larry to win this one because, well, what else does he really have going for him? (I myself was going to campaign just as hard to win this category, but considering I'm in the middle of writing a review of Gymkata, I figured my dignity was in enough danger.)
So our hearty congratulations to these fine champions, as well as the winners in all of the other categories. We only hope that their measly first place trophies are compensation enough when compared to the massive moral victory which is ours and ours alone.